Dr. William A. Ballance, Jr.
Dr. Ballance is the Owner, President, and CEO of Greenville Pathology, P.A. Born and raised in eastern North Carolina, in Fremont, he received a Bachelor of Science in Chemistry from East Carolina University. He went on to also receive a MD from East Carolina University. He did his pathology residency at Case Western University Institute of Pathology in Cleveland, Ohio, and a Surgical Pathology Fellowship at the University of Texas, M.D. Anderson Cancer Center in Houston, Texas; he returned to Greenville in the summer of 1989.
He began his career with Roche Biomedical Laboratories in 1989. He holds the position of Clinical Assistant Professor in Pathology at the Brody School of Medicine. Dr. Ballance is boarded in Anatomic & Surgical Pathology, as well as Cytopathology.
In the summer of 1997, he decided to open a privately owned full-service pathology laboratory that would serve eastern North Carolina with the highest quality care, and the personal touch. That dream became a reality when the doors to Greenville Pathology, PA opened for business on January 1, 1998.
Dr. Ballance has received the Top Doctor award in Pathology in North Carolina from 2013 to 2017.
---
Dr. Nancy Smith
Dr. Smith is the Medical Director of Greenville Pathology. She received her Bachelor of Science degree from the College of William & Mary, and MD degree from the Medical College of Virginia. She did both her pathology residency and her cytopathology fellowship at Pitt County Memorial Hospital, Brody School of Medicine. She is board certified in Anatomic & Clinical Pathology and Cytopathology; and is a fellow of the American College of Pathologists and the American Society of Clinical Pathologists.
She spent 10 years as a member of the pathology faculty at Brody School of Medicine/Pitt County Memorial Hospital, with 4 years of experience as the Director of Cytology. She joined our practice on September 1, 2007. She resides in Greenville with her husband John and their two children.
---
Ashley Carlyle, CT (ASCP)
Ashley has been Greenville Pathology's Cytopathology Supervisor since 2002.  He established the Molecular Pathology department at Greenville Pathology and has supervised it since 2007.  Prior to moving to Greenville, Ashley worked was a staff cytologist and educator at West Virginia University Hospital in Morgantown. He graduated from the Medical University of South Carolina with a Bachelor's in Cytology.  Ashley is a member of the North Carolina Medical Group Managers Association and its Eastern Carolina Chapter, as well as, the North Carolina Society of Cytology.
Ashley is originally from West Virginia, but has lived in Eastern North Carolina for 17 years. He enjoys competing in his tennis league and tournaments, as well as riding his motorcycles.  He, and his wife Jessica, are members of a local running club and compete in regional charity races. They live in Greenville with their two boys.
---
Linda Elks, HT (ASCP)
Linda is Greenville Pathology's Histology Supervisor and has been working at Greenville Pathology for 28 years.  She has been ASCP certified since 1992.  Her passion for histology began in 1987 and has led to an enjoyable career in the field for the past 30 years. 
Linda is a Pitt County native, born and raised in the Greenville area for the past 50 years.  Outside of work she enjoys spending time with her husband and their daughters, especially when they can relax in the sand and saltwater of the beautiful Crystal Coast!
---

Susan Cyphers
Susan is Greenville Pathology's Billing Manager and has been with the practice since 2017. She has 20 years of experience in medical billing and graduated from The University of Mount Olive with an Associate degree in Science General Studies. She is a member of the North Carolina Medical Group Managers Association.
Susan was born and raised in Greenville. She enjoys spending time with her husband, Chris, and daughters, Elise and Katherine. She loves going to the beach and playing with her dogs.
---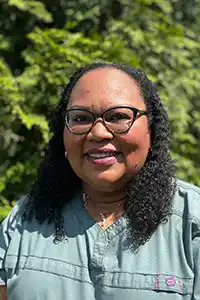 Monica Jackson, PA (ASCP)
Monica Jackson joins our family at Greenville Pathology with 20 years of experience in prosection. She received a Bachelor of Science degree in Forensic Studies from the University of New Haven; and then graduated from the Quinnipiac University Pathologists' Assistant Program with a Master of Health Science degree in 2003. She was a recipient of the Congressional Hispanic Caucus Institute Scholarship and is an American Association of Pathologists' Assistants fellow. She has a passion for grossing and an affinity for breast surgical pathology cases. Prior to joining Greenville Pathology, she enjoyed working with the anatomic pathology residents at East Carolina University Brody School of Medicine.
Monica is an East coast native hailing from Connecticut. Her leisurely activities include visiting the North Carolina beaches, painting and spending time with her grandchildren.